Pottery By Reiffhaus Studios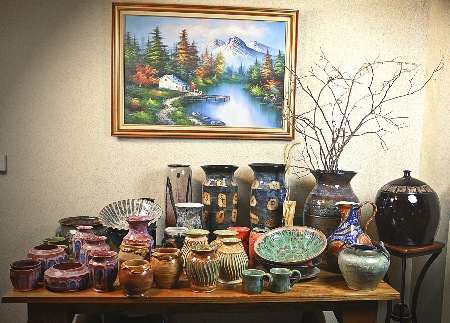 Welcome to the Pottery portion of our website. Pottery is our newest form of artistic media. We just began working in this media in June of 2012. We really enjoy this new release for our creativity. You can view some of our pieces by visiting our Pottery Gallery.

We have taken no classes, we don't have degrees in art. But with a lot of research, watching a lot of how to videos, and lots of practice, we were able to learn a multitude of techniques.


Intrigued by actually taking Clay from the ground and making utilitarian items, and even a pieces of art, We got on E- Bay and found a used homemade kick-wheel. We played around with throwing pots with this contraption and soon realized we could actually make functional pieces.


With these green clay pots accumulating, it was back on the Internet to find a used kiln to fire our pieces. It snowballed from there, and we now have 2 electric wheels, but are currently using the same used kiln we bought originally.

We have learned a lot from Mr. Simon Leach's videos. He and his father have been master potters spanning generations. I personally cannot thank Simon enough for all that we've been able to learn from his generous teaching videos.